Well this is difficult. 2/3 days on deciding where to start in looking at the Derby game.In fact pretty much the reason I m writing this is know I have to. In all honesty I'd rather pretend that didn't happen.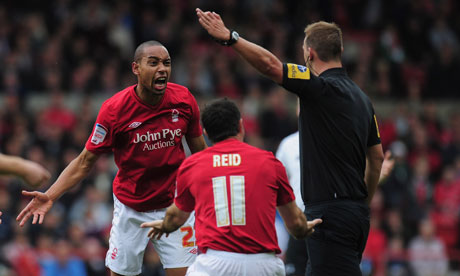 Blackstock is sent off
To be honest I won't be apportioning a lot of blame for the result on the ref. Yeah he was awful, yeah he made some terrible decisions, no it wasn't a red, but it can't help to dwell on that. This we can't take anything from, but the rest of the performance is there to dissect and see what can be learnt.
We played the same 4-1-3-2 as we have been lately, narrow midfield but with the players encouraged to move wide, but not actually positioned wide. Cohen came in to take the right midfield spot, whereas we though Jenas might have featured after coming back.
Formation
Well first off is that we need to make chances.One critique of the game was the lack of chances at either end, and save for a Gillette shot and the odd free kick there really wasn't anything.Nothing clear cut anyone.No-one getting behind the defence in for an attack.
The only person who did look like achieving that was that perennial thorn in our side Jamie Ward. As much as I dislike him he does what he does brilliantly. Tricky close foot work, questionable ethics, going down easy, sounds like Jack Lester and we loved him.
Now yes, the referee should have clamped down on Derby's physical play earlier. To not book their players early on for challenges which got increasingly strong played into Derby's hands.It meant we kept playing them at their game and Derby are better at being physical than we are.So we played into their hands. Rather than be creative and get on with it, we allow ourselves to start trying to out do them. To become angered and react. It worked. They won. But they were allowed to do this by a very poor referee.
The referee of course didn't stop us creating chances,lacking width, creativity and verve, the usual problems,no, but he did take focal point away from the them in sending off Blackstock.I don't need to dwell here, we have all seen it, we all have a view on it.
What did start to enrage me was that 6/7times he waved their keeper to hurry up and take kicks, 2/3times should be enough to book him,of course they will carry on doing this if there is no action. Why the ref didn't act is beyond me, so when Cox and then Lansbury tried hurrying up the keeper by hanging around him, they were the ones to be booked.It was laughable. Fielding was the one disobeying the rules yet the ref was complicit in allowing him to do this time and time again. It really was awful.
But then do was our defending at times. Ayala with a lapse nearly let them in. When it did come the left side of the team was carved apart with relative ease for the ball to come across and Brayford score the winner.
More negatives than positives for sure,but one huge bright shining positive was Chris Cohen, who on his league return was brilliant. Really pleased me to see him at his same best game. It creates head aches though now with what midfield to set out. Especially with two suspensions up front for the next game,which has bizarrely seen some calling for Matt Derbyshire to be recalled from his loan despite pretty much being one of the most disliked players amongst fans
A day to forget, and a day ruined,I had set a new personal best in the half marathon prior to the game which had me thinking it was a good day. Forest always know how to ruin that.