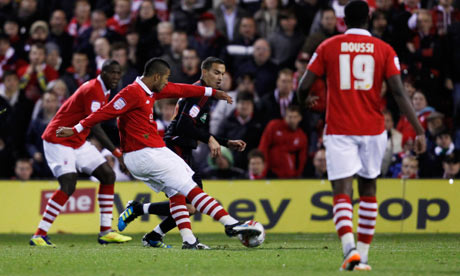 To be honest I was worried approaching today's game. A manager who has had a mixed reception upon his appointment, in a team playing badly. Coupled with the fact I had been led to believe Cotterill was a long ball merchant, I thought this could be ugly. I wasn't against Cotterill, more just that those who were would immediately have ammunition
But on the other hand, Middlesbrough always seems to be bad and poor whenever I see them. And that they were. On one hand because they didn't seem at the races today, but also that we didn't allow them to be in the game.
Make no mistake this was a Forest team who looked assured and dangerous whenever moving forward. Defensively we looked secure. The midfield too didn't let to side down and McGugan and Majewski looked majestic. Camp...Well he didn't have much to do, especially in the first 45 minutes.
We had a straight 4-4-2, with Chambers at right back and Gunter on the right wing, Majewski was on the left, with everyone else in their normal positions.
Our first goal was beautiful. A team goal sweeping forward, with Gunter squaring it for Tudgay to net. Many had questioned Tudgays selection. Like many players tonight he showed why he was chosen. Not just for his goal but his all round performance.
Miller for me, although sometimes selfish, always looked hungry. And further more looked dangerous. McGugan was back to where he was last year, even shooting from long range with free kicks. Majewski's little close footwork looked assured.
Gunter chosen as a right winger was a good choice there. His natural attacking instinct was used well, and he covered his full back well. At times Majewski didn't with Hill, but that is a very very minor gripe. The whole team had their mojo back.
Middlesbrough offered nothing at all in the first half. They started the second a little better, with a free kick that resulted in a close header at the back post. That was their best chance.
We finished the match off in a very good period, where Miller, Majewski and McGugan often got forward and looked lethal. McGugan netted with a usual goal, jinking on the edge of the area, before finishing into the corner with his usual aplomb. No more than we deserved.
I hoped we might kick on to get 3 or 4. But then I am greedy. A first home win will definitely suffice. Miller did seem to go off with some kind of strain later on. Can't be too bad as he was on the pitch with the players at the end rather than getting treatment.
My main moan today was the poor treatment Greening got when coming on, jeering your own players introduction, and then ironically cheering and clapping every pass he makes is neither big or clever. It's ridiculous.
All in all a day to restore faith in the Forest team. Long may it continue.