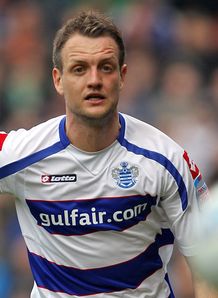 To be honest most of my knowledge of Clint Hill stems from the fact that when at university, I played a lot of Championship Manager and back then Hill was a promising young defender who wasn't expensive. Now after all these years Forest have signed a player I used to snap up for the Reds 12 years ago sat in my dorm room. If we sign Marcus Bignot now I'll be proved some kind of psychic (I am of course not suggesting we should)
So what do we have? Well he can play left back or centre back,both of which we need because to be honest, left back is a position that needs sorting once an for all,and the rock steady partnership of Morgan and Chambers looks extremely shaky. It might however affect the emergence of Joel Lynch in the past few weeks, which has been a lonely bright spot to the season
a QPR fan on the 24-7 forum has told us the following which can only be apositive
He'll die forever he's playing for & kill anybody who isn't prepared to do the same.

Best of luck Clint. You'll always be a Rangers legend
That sounds exactly what we need. Someone to fire a rocket up the collective arses of the rest of the players.No offence to Chambers, he deserved to be given a shot at captain but he isn't someone to incite passion and drive in his players like some former defensive captains who played left back for us might have done.
I was worried that at 32 he might not be the quickest, and with many a quick pacy winger (ie Kebe) in this division that it could be a problem, well he isn't pacy but he can adapt his game accordingly.
I for one seem to think this might be a great signing for the Reds, lets hope so versus Watford on Saturday. QPR fans seem to think they'll never see him in the Hoops again,so if all works out, lets snap him up permanently.
Finally a quote from a QPR blog that only excites me more (QPRRollercoaster)
Taarabt, Routledge, Faurlin and Mackie may have got all the headlines but ask any QPR fan who were the vital players last season: most will answer with Paddy Kenny, Shaun Derry and, of course, Clint Hill.

He may only have been with us for one season but the impact he made at the club won't be forgotten.