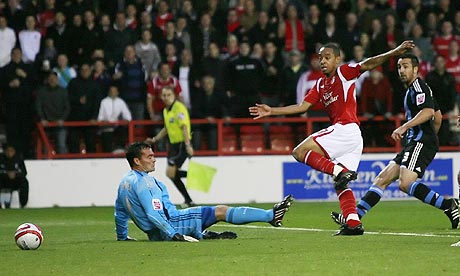 For the second time this season, Forest has drawn a set of Magpies at home in the Carling Cup.
Newcastle United will be the visitors in the third round, in what I see a winnable affair.
The match will be played week commencing 19th September – more than likely on Tuesday 20th.
The last time the two clubs met at the City Ground was almost two years ago, where Forest won a tight affair 1-0 against the eventual runaway champions.
Forest made the third round having trounced Wycombe Wanderers 4-1 last Tuseday - in what was our biggest away win since that West Brom game.
McClaren inspired the team pre-game telling them how lucky they were to be wearing the shirt and to fight for it everyday.
It looked as if the words rubbed off well as by the 7th minute, Forest were 2-0 up thanks to Ishmael Miller's first goal for the club and a Lewis McGugan penalty.
Forest dominance was a common theme throughout the game as Miller and McGugan terrorised Wycombe's defence.
The first half also supplied some comedy, with flocks of birds swooping into the visiting Forest fans - it seems birds are a running theme in this Carling Cup run.
By the hour mark, Robbie Findley grabbed his second of the season with a cool finish before Joel Lynch gave away a penalty, resulting in the visitors pegging a goal back.
Raddy Majewski then completed the rout, when Garner cut the ball back into his path to set him up with an easy finish.
Follow the writer of this article on twitter here