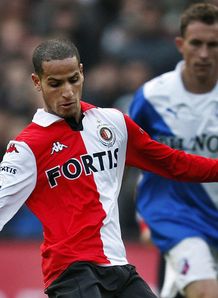 I don't like to single out rumours on the net, in fact rather round up a number of rumour,but this one seems to have more legs than many of the other rumours for the simple fact its coming from abroad, in fact the Dutch press.
We are linked with Feyenoord midfielder Karim El Ahmadi,a creative defensive midfielder, who would perfectly fill the McKenna shaped void in the team if and when he leaves.
He currently is contracted to Feyenoord,but is playing on loan in the United Arab Emirates for Al-Ahli Dubai. Although a Moroccan international he is Dutch born, so passports and work permits are not problems.
He cost Feyenoord 5million Euros, but due to their financial problems was loaned out to get him off the wage bill.Therefore it is likely he would be available for much cheaper than that fee probably in the region of £2million,maybe cheaper.
Seems McClaren is wanting to use his knowledge of the Dutch game to good effect