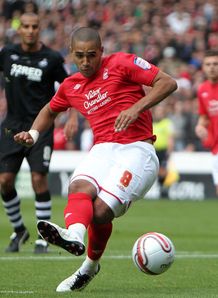 As September started most fans were disgruntled. The lack of signings,and reported takeover that never materialised, and probably never even existed and Billy's future being very much in question made the average Forest fan extremely worried about where the season was heading.
A mixture of emotion was pouring out, those who were pro Billy,against the Acquisition Panel and David Pleat, bemoaning a perceived lack of investment. Then there were those fed up of Davies constantly moaning in the media, supposedly working 3 day weeks and attempting to rock the Forest boat to get his way. Neither side conceded the other had a point.
Rosicky10 on the forum said on the matter
You can't help but notice all the finger pointing still - not only by the fans, it's also (if not more so) by the manager and by the board... The club looks a state. Just 9 months ago we had glorious, confident attacking football, tactical astuteness away from home and happy smiling facing all around, what the hell happened?
It all seems like a chicken-or-egg argument - what came first, a tight wallet or a self-centred dick of a manager protecting what he believes to be a reputation by destroying young, promising players.
tricky_trees said
Disaster snatched from the jaws of victory. What should have been an exciting season for us has been turned into a soap opera. The real losers in all these political shenanigins are the fans as all sense of anticipation for the season has long gone. We have gone from thinking we could be favourites to go up to expecting a bottom half finish. As Doughty states in the article missing out on the Prem cost the club £90M. We are now very unlikely to reach this goal. This is all the more ludicrous when Doughty boasts of his business credentials. What business sense has the last 8 months shown? Ridiculous way to run a club
On the pitch however things began to pick up.The month started slowly,an international break meant we didn't play until September 11th, in a1-1 draw with Millwall that at the time didn't feel so good.Again like all of August though, as the season turned out, it wasn't a result to be ashamed of. A deserved point, Millwall had taken the lead before Blackstock equalised lasteon. Bare in mind Blackstock had alsomissed a penalty however. Forest were still in the lower reaches of the table, but we weren;t losing games, showing a tenacity in coming from behind in a few games.
The next game would be somewhat of a catalyst of the season in three ways. Firstly it was our first win, at Preston. We came from behind to beat them, marking our first away win in longer than most could rember and our first win in any match since September. Also it marked the game that the renaissance of Lewis McGugan began. He scored two very well taken goals that we thought were good goals at the time. Lewis would go on to show them as being mere tap ins to what he could do. We were now up to 15th in the table.
Trickie Trees said on the forum in reaction to this
An excellent win. I hope this is the start of a good run like what happened last season. Mcgugan has the potential but it is all about application and not being a big headed tvat from now on for him to make it with us. I hope this is the turning point for his career at Forest.
Forest7 said
Well, after the last game I was saying I'd like to see him back in. Lewis is frustrating, but give him a free role he can win a match. Billy has treated him poorly. He has frozen out a class player, rather than worked with him to improve. He's a better player than Majewski. He has more end product, a better finisher, can beat a man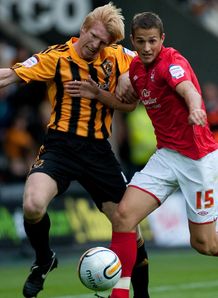 The next game was a dour 0-0 with Hull away. On sky it was instantly forgettable. The only real thing of comment was that it was Forests first clean sheet away since Boxing Day. Both teams had few chances to win,both wasting good opportunities, Chambers for Forest,Bullard for Hull.
We followed this up with an excellent home win against Swansea at the City Ground. The Reds took a 3-1 win against the Welsh team who would eventually be our undoing. McGugan netted twice again,one a penalty, one a wonderful goal beating two men and curling it in before Majewski rounded off the win. Van der Gunn netted a consolation goal. The win put us in the top half of the table for the first time. Undoubtedly with hindsight this was a glorious win for the Reds, showing exactly what we could do
IntotheForest on the forum said of the win
Was a good performance anyways, was expecting Swansea to really go at us but it wasn't to be.
A shame we squandered another clean sheet but hey the win was more important.
McGugan's second was an absolute beauty and it was good to see Raddy come on and finally do something of notice; hopefully Mcgugan's good form has finally given him that kick up the arse he needed.
Great result and I won my first bet since April 09 yday getting a whopping £7.10. Unbelievable stuff!
So finally it looked like we were building up a head of steam. Heading into the last game of the month against Sheffield United. Optimism was high amongst fans, but the game instantly took that wind out of our sails when the Blades scored early on,and in the usual manner. An in swinging free kick was headed in by Cresswell,and Forest lost all focus. It took till the second half to regain it,when McKenna would equalise for the Reds. We had a penalty shout turned down, but all the pre-match enthusiasm and happiness seemed to have drained away.
Rosicky10's view of the match was as follows
Frustrating night. Poor ref and linesman doesn't help, but they came with dirty tactics and bullied us for a lot of the game and the officials let them.
We looked dangerous in little spells but really need more conviction and attacking desire when at home and especially when a goal down.
Had to laugh when their players surround the ref for a tackle that seemed identicle to what they were doing all match though, Blunt bastards.
So in essence things were gradually improving, A resurgent McGugan was dragging Forest up out of a potential struggle towards the top parts of the table. We were still lacking consistency though, but the moaning at the start of the month was starting to quieten down as fans were starting to see progress on the pitch. Upward progress up the League will always quite doubters.
Of course the most notable part of September was the founding of this very website. Forest 24-7 was created from Soccer24-7,and a number of blogsites made.Only we remain from that flurry. From humble beginnings we now have burgeoning viewer numbers and have made huge steps in followers on Facebook and Twitter