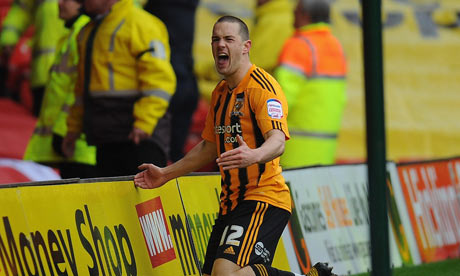 It's a strange sensation to write a match report following a home game where we haven't won. It'sa new sensation in fact, seeing as the last home defeat we had this websitedidn't even exist.
Not that Forest deserved tolose, theresult is somewhatharshon the Reds, who were not the worse team, however it is by the same token not overly surprising. We have looked shaky in recent week, the Preston game as stark warning as any that City Grounds fortress status was in jeopardy.
36 games unbeaten at home is as good a run as we are likely to see and we should celebrate this run rather than now mourn the ending of this magnificent feat. Make no mistake, this run has carried usto where we are, asall know what parlous state our away form was in for pretty much all of 2010.
Forest fielded a 4-4-2 in the traditional sense, of playing flat across the middle., although Anderson and McGugan were encouraged to switch wings.
Hull set their stall out tostop our creativeness, Forest fielding by force an attacking midfield full flair, but no steel. McKenna had picked up a knock and so missed out forcing Cohen into that role instead of his usual box to box midfielder. The game did see the welcome return of Paul Konchesky at left back though, and Julian Bennett making a rare appearance amongst the substitutes.
Forest shouldhave probably taken the lead very early on,a defensive error left him free to fire a volley in the penalty area. This shot was blazed over though. In hindsight,it should have at least got on target, but being so early in the match it felt like this would be a good match for Forest. Alas.
That being said the first half saw usas the only team to make any chances or look anything like breaking the deadlock. Camp had nothing to do other than watch as Forest created several chances which were all spurned.
Earnshaw particularly was getting in the right place, but couldn't finish, and Majewski has a powerful effort blocked by a Hull defender, and Tudgay headed over from a Gunter cross. Apart from this the half was largely forgettable.
The second wassomehwat more equal,Hull creating more in front of the support. Having nullified Forest for the first half, they could be more adventurous and go for a win themselves. In a striker like Fryatt they had someone who remains always dangerous if anonymous for large periods,and that is exactly what happened. Hulls goal came from good fortune more than anything, a long clearance forward was intended to go differently, more a looping ball up, however its course was drastically changed by a deflection off Cohen, this ricochet took it straight to Fryatt on a run at goal, and his finish into the bottom left hand corner was perfect. If that ball had spun any differently on its course I doubt that the chance would have come in the way it had and been finished, but that's football. And Hull certainly weren't complaining.
This created a nervous crowd, and for a while I haven't seen a crowd at Forest be like this. They were quick to seize on errors and rather than encourage often howls of derision were more easily heard. The team were not booed off which is pleasing, unlike some of the boos in the Preston game from £10 wonders turning up to to their one game a year. Instead they were applauded off and rightly, but that's an aside.
Forest weren't without their second half chances. McGugan had a volley from Majewski corner blocked. Think Paul Scholes a few years ago and that's what they were trying. It could have worked, but there were too many people in the way. Forest's tactics at corners had to be changed from the usual. Hull left two men up at each corner, on each wing, forcing us to drop Wes back to cover and avoid a potential one on one, and this meant we didn't have the threat from corners we usually do. A clever tactic from Hull.
Forest threw on McCleary for the largely ineffectual McGugan, and Rodney for Earnshaw who was quiet in the second half. This raised a few eye brows, that we would use the raw youngster rather than put on Adebola or McGoldrick, but he chased hard, and what he may have lacked in finesse he made up for with effort. McCleary made a difference with his direct running and on several occasions put the ball in from beating the full back,take note Paul Anderson, who again never looked like beating anyone, or able to put in a cross of much threat. Adebola was also introduced to make a difference and big Wes thrown up front in the chase for goals.
Our best chance came in injury time when Majewski put the ball narrowly wide from an angle. From my position in the top of the Trent End it looked sure to bulge the back of the net. It missed. Gunter also had a good chance after finding himself in the penalty area before that, which Gerrard blocked.
Hull for the most part had wasted a lot of time, more so when Mannone in goal was unable to take kicks, leaving them to a centre back, it almost resembled schoolboy football seeing this. And many of these kicks were poor and went out of play leading the the resurgent ooooooohhhhhh cheer on each kick. If only we could bring back the boing boing for each header afterwards too.
And that was that. The run was over, Forest tasting a rare home defeat. It may serve as a collective kick up the bums. However the team did look dog tired. And with so many people out I will too join the call for a new recruit, but as with Billy, lets not just get anyone in. Some players will start to come back soon, Moussi believed to be a matter of a couple of weeks away. I'd also hope Findley soon is ready to begin his Forest career.
Yes a defeat but not one to be too downhearted about. Forest weren't poor, we just couldn't finish. Hull took their chance well.The run is over and I worry it may be a catalyst for other teams to up their game. We struggle against teams who stop us playing the quality of football we know we can, and they make it hard for us to break them down. It was good though to see most of our fellow promotion contenders also slipup. A collective slip by all, and that Joe Garner was the man who scored for Scunthorpe to beat Swansea was pleasing.