I had originally planned to save this article until just before the Donny game on Saturday, although after tonight's result - match report to come tomorrow - I think we could all do with a bit of a pick me up...
So Saturdays defeat to Hull finally brought an end to that incredible 36 league game unbeaten home run. It was a run that lasted over 18 months producing 70 Forest goals, 19 clean sheets and some of the finest Forest games in recent memory.
This article will celebrate this unbelievable achievement with a look back at Forest24-7's favourite games during the run.
3. Forest 1-0 Newcastle (Unbeaten Game 2 - 17/10/09)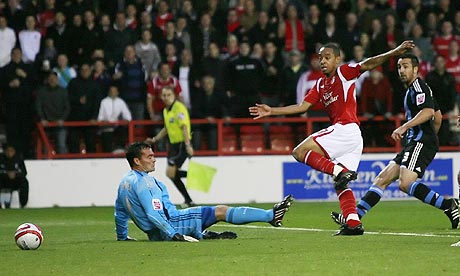 This was a match that every fan was looking out for when the fixtures were released in July 2009. It came as no shock to see a sell out crowd pack the City Ground to witness Forest notch up one of the most memorable results from last season.
A hard fought encounter saw Blackstock score the only goal of the game. There was indeed nervy moments for our new squad, none more so than when Nolan had a goal ruled our for offside. But we managed to hold strong and show we're not ones to be pushed aside easily - a mentality we've since gone on to enforce into our team.
The result was one that I believe was the catalyst for our excellent season last year as well as providing the glue this team needed to gel.
Anyways in at 2.....
2. Forest 5-1 Leicester (Unbeaten Game 5 - 05/12/09)
The unbeaten home run was a mere 4 games old before we took on Leicester. As always both sets of fans were confident – I for one could feel a win coming but thought a close 1-0.
Our form was great going into the match. It was 10 league games since we had last lost a game in the league and the team was beginning to show real togetherness and progression.
It turned out that part of my pre-match prediction was right. Forest did go on to win that day but we only went on and helped ourselves to a 5-1 win. Earnshaw grabbed himself a hattrick while Anderson and Big Dele completed the scoring for Forest against a woeful Leicester team.
We outplayed them in all areas that day and the dreams of promotion were starting to come onto the cards.
On top of that, things don't get any sweeter than thumping one of your rivals - which brings me nicely onto number 1…
1. Forest 5-2 Derby (Game 30 - 29/12/10)
What other game would have been number one? This match will forever be one of the all time favourite games for any Forest fan.
At the start of the evening folk were saying this game was set up for Derby to beat us and end our 29 game unbeaten home run – just like when they put an end to our 19 league game unbeaten run in the 09/10 season.
The Derby fans were 100% certain they were going to win, despite not winning a game in the league since mid November.
What ended up happening was something you dream about.
The mist was rolling in from the Trent as the Reds ended up sending the Ram's to the slaughter.
An early goal from Luke Chambers and 2 goals apiece for Tudgay and Earnshaw rounded off one of the best Forest games I have seen since the turn of the Millenuim.
The Judas even got on the scoresheet to make the score 4-2 and proceeded to run in front of the Brian Clough stand and wind up some fans - always makes me laugh he didn't dare run over to the A Block, Trent End or Victor Chandler corner.
The game also introduced the "Ole, Ole Tudgay" and "Unbeaten at home" chants as we stretched our unbeaten run to 30 games.
But what else can I say about this game that hasn't already been said. If things go to pot this season at least we can remember this game forever, as well as going to Pride Park a month later and completing the double over them.
I guess looking back it is a real shame we couldn't last the whole of the 2010/11 season unbeaten at home - as well as ending the streak just shy of 40 games.
But let's not be down about it, this is a fantastic achievement that I doubt we'll see repeated for many, many decades to come. Even with this little wobble at the moment, I hope and still have some belief we can cap off this season with promotion.
I guess all we can do is hold on the hope!
Like this article like us on Facebook here or follow us on Twitter here