In the second of our series looking at Forest connections with various nations around the world we call in on Germany.
Felix Bastians
The young left winger always looked like he was on the edge of breaking through at Forest, the only problem being his position was one always seemingly occupied by the star man, whether that was Andy Reid or Kris Commons.
For that reason he spent a lot of time out on loan at a multitude of clubs, including Chesterfield and neighbours Notts County. Bastians had the honour of being Forests third youngest ever player at senior level.
At the end of 1998 he was released by Calderwood, and he joined Swiss club Young Boys. After a year there he transferred to Freiburg in his native Germany where he plays still today, although now as a centre half. And in the top flight. Two things he wouldn't have been doing at Forest. A real missed opportunity
Eugen Bopp
Although Ukrainian born,he moved to Germany as a kid and was on the books at Bayern Munich before signing for Forest.He started brightly in the Forest team, with a reputation for the spectacular strike, borne out from a pre season goal against India (yes India the nation) He was in and out the side as a youngster before when it finally seemed he was settling in receiving a nasty injury against Derby. It arguable he wasn't the same afterwards, and after a few spells in and out the side again, he was out the club, and on his way to Rotherham. After a year there he went to Crewe where he spent a couple of years,before being released. He now plays for FC Carl Zeiss Jena. He is also on twitter at @EugenBopp4
Pascal Formann
The young keeper never made it at Forest. Always third choice behind the likes of Barry Roche, Rune Pedersen. He left the club and has been the books of numerous other German clubs, though its hard to tell how much he was played. He now plays in the German Fourth Tier for Hessen Kassel.
David Phillips
Although a Welsh international. David Phillips was born in Germany, in Wegberg. I assume this is to do with the presence of an RAF Site at the town. Phillips was a key player under Frank Clark after signing from Norwich in 1993. Phillips made 126 league appearances fro the Reds and scored 5 league goals. His greatest strength though were his assists.He'd had spells previously with Man City, and a successful spell at Coventry when they won the FA Cup. He left us to play for Huddersfield Town.
Tony Woodcock
Born locally in Eastwood,Woodcock was a part of the glory days at Forest.After winning the league and the 1979 European Cup, he left to join FC Cologne in he Bundesliga. HE would have two spells with the German club, with a successful spell at Arsenal in the middle. After FC Cologne went to Fortuna Cologne, and after retiring worked around the German game for a number of years.He also played 42 times for England scoring 16 goals
Munich Olympic Stadium
We really can't mention Germany and Forest without mentioning the Olympic Stadium, where in 1979 we of course clinched the European Cup with Trevor Francis header. We would return to the stadium in 1996 and gain a creditable 2-1 defeat in the first leg of the UEFA Cup Quarter Final. Steve Chettle scoring from pretty much the same spot Francis did with a header.
Ebby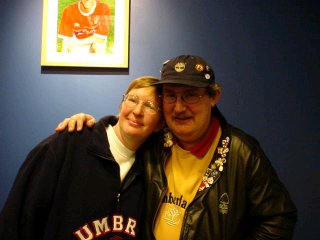 It would be remiss of us to not mention Ebby, or Eberhard Kleinrensing to give him his full name. From Duisberg in Germany he is perhaps one of the more well known amongst fans. Sitting in the Brian Clough lower with his giant flag draped over the front wall,or at an away game, he is always there. Ebby got engaged in front of 20,000 fans at City Ground in 2000.