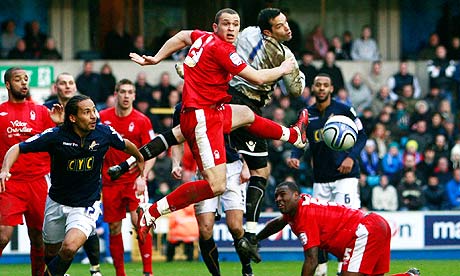 Apologies for the delay in this article – thought I'd already posted the report yesterday and looked through the site to find it wasn't there. Own goal!
Anyways, there will be few games this season where Forest will have so much possession in one game and do nothing with it. Forest had held over 70% of the possession from Saturday's game at Milwall, in what proved to be another frustrating game.
Forest opted to resort to their favoured away day 4-5-1 formation with Raddy coming back into the team at Tudgay's expense. Earnshaw also found himself on the bench having missed the Preston game through injury.
The first chance of the game fell in Milwall's favour. A Steve Morison header was cleared by Chambers only for it to fall to Hameur Bouazza, who hit a shot with the outside of his boot just over.
Its worth saying Bouazza along with David Forde were quite easily Milwall's best players on the day. Bouazza tossed and turned his way through our right wing and was a constant threat - he certainly looks quite the January signing.
After a couple more Milwall chances, it was only ever in Forest's favour after that – fortunately this week the ref was a bit too.
Shortly after, Forest's first attack game. McGugan hit a driven, long range shot forcing David Forde to tip it round the post - it would have almost been identical to the goal at Coventry minus a goalkeeping mishap.
On 25 minutes, Cohen pinged a through ball through for none other than Joel Lynch, who put a volley right across the face of goal and had McGoldrick got the slightest touch on it, it would have been in. Another case of if's and but's.
Chances were few and far between for both teams after that - Forest won themselves a couple of free kicks which McGugan hit wildely over or into the wall.
With the sides level at half time, Milwall proceeded to boo the referee and his assistants as well as pathetically chant; "We only get sh*t refs!". Suppose it's worth saying that Milwall's renowned intimidating atmosphere must have been having a day off as Forest out sang another team for the duration of the game.
Second half and Forest held possession but did nothing much with it.
Raddy had a shot from the edge of the box early on that went narrowly wide, while McGugan weaved through the Milwall team only to hit it straight at Forde – it looked better in reality than it did on the replays.
Lynch hit a wild volley from outside the box that went flying over the bar – I wish it had gone in, more so to shut the clueless fan sat in front of me up who was jeering him and McGoldrick throughout.
The best move of the game came when Forest had the Milwall defence floundering all over the place. A quick passing move found Anderson who threaded through a ball for an unmarked Gunter sprinted down the right. Gunter took a heavy touch to beat the Milwall left back and shot from a tight angle – forcing Forde into a routine save.
McCleary and Earnshaw's introductions seemed to make Forest look even more dangerous although I suppose it was too little, too late. McCleary had a great chance when he got a flick onto an in swinging McGugan cross, once again forcing Forde into a save. If I'm honest I think in McCleary's cameo he showed signs of a player who should get a chance at Boro.
Sadly, McClearey's chance was it for Forest and despite trying, Milwall's defence held firm and we shared the spoils – ignore what the Nottingham Forest wrist slitters say, it was a bloody good point.
We pressed, we dominated and yet we did nothing with it – a familiar story from our recent games at Scunny and Preston.
Here's hoping we bring home the points from Boro tomorrow.