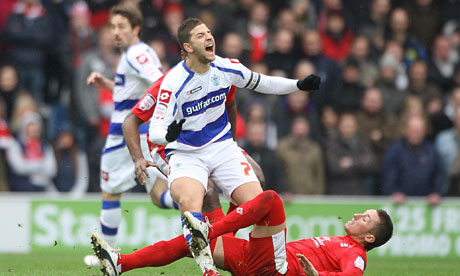 If you had asked either set of fans what result they wanted pre-game yesterday, few would have argued with a draw. Yet most QPR fans were left feeling like they'd lost after squandering a 1-0 lead to 10 men Forest – in what was the Championship's biggest game of the season.
Unsurprisingly, few Forest fans came out of Loftus Road complaining. A precious point away at top of the league with another faultless defensive display to boot.
The team we sent out was almost the same as the one that beat Watford last weekend, with the only changes being Anderson and Earnie making way for McGugan and McGoldrick.
And it was obvious we were going to press and attack from the word go – just like we did at Cardiff.
With just 11 seconds on the clock, a through ball was played to Tudgay only for him to smash it at the inside of the post – although the offside flag was up.
With both sides pressing and attacking, it was obvious a goal was coming.
Unfortunately for us, it was in QPR's favour when Tommy Smith won the ball from Koncheskey half way into our half. He sprinted towards goal, jinxed past Chambers and hit a superb curling finish past Lee Camp.
Shortly after came a moment that had many fans with their heads in their hands. Adel Taarabt had been kept quiet all afternoon and when he picked the ball up on the halfway line, Majewski lunged in two footed at him promptly resulting in a red card for the Pole and many thinking that we were on course for our first defeat since November. From where I was sat it never looked like a red due to Adel's delayed reaction but the replays I've seen since have proved me wrong – as well as making me relieved that I ain't a referee!
Yet on 26 minutes, Forest was given a significant lifeline. McGugan hit a free kick which clipped McGoldrick and trickled past an outstretched Paddy Kenny palm. Forest had somehow got a goal and it was all thanks to Lady Luck – let's hope she sticks with us until the end of the season.
Before half time, we could have taken the lead were it not for an excellent stop by Kenny from a Wes Morgan header whereas at the other end Luke Chambers was on hand to block two shots that looked certain to fly into the goal. The blocks were only a small part of how excellent he was yesterday.
Second half and Tudgay was withdrawn for Joel Lynch which left some around me bemused and unhappy. In my opinion, when you're down to 10 men away at top of the league it seemed a logical switch to hold on for what we have.
Fortunately the switch worked wonders although in the case of McGoldrick it was obvious he'd been told to just stay back and hold the ball up when he gets it.
The second half defensive display was nothing short of superb and we continued to frustrate and annoy QPR resulting in them attempting tame long range shots at Camp.
But QPR almost clinched it in the dying quarter of the game when Bradly Orr's looping header went over Camp only for it to be cleared off the line by Gunter. A sigh of relief breathed by all. There was also a penalty shout but Clattenburg wasn't having any of it.
And that was that in the end. QPR had the possession, yet Forest's defensive display meant they could do little with it.
It was a performance that showed how far this excellent team has come this season because last season has we gone 1-0 down with 10 men, we'd have collapsed.
The red's keep marching on…