I have been a Forest fan for over 12 years now and the obvious fall from grace in this time, means there haven't been as many Forest-Derby games as I would have liked. Nonetheless, as with all fierce local Derby matches, form becomes replaced with a blend of pride, passion and unforgettable moments. Here's a list of my top 3 Forest-Derby moments: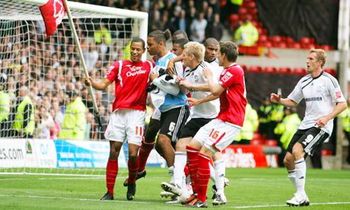 3. Nathan Tyson's flag incident
– A warm summer's afternoon at the end of August 2009, provided two of the most memorable incidents in recent Forest history.
The game started magnificently. With less than a minute on the clock, Chris Gunter put in a cross that was cleared by Derby. The ball rolled into the path of Radi Majewski who proceeded to smash the ball first time as it flew in off the bar and into the Derby goal, right in front of the visiting fans, providing us all with an early goal of the season contender.
We continued to have the best of the chances and better still Kris Commons was having an absolute nightmare. Sure enough, Judas Commons gave away a free kick that went on to provide Blackstock with a goal to double our lead. Our start was absolutely magnificent and one few had predicted.
Derby then had a goal disallowed before Commons lost the ball to Mckenna near the half way line, who played a ball across to Blackstock to feed in Nathan Tyson. Tyson rounded Bywater and put us 3-0 up. It really was the perfect half.
Derby upped their game in the second half and Commons was subbed immediately. But Forest held firm to win 3-2.
And then came one of the most iconic moments in recent memory. Tyson thought it'd be a good idea to do a lap of the pitch waving a corner flag with the Forest emblem on. This was all well and good until his journey took a trip past the Bridgford End housing the visiting supporters on the lower tier. What followed was a good old fashioned brawl among both sets of players. Tyson not one to be beaten, dusted himself off and proceeded to complete his run around the pitch with the flag.
A £25,000 fine for 'unsavoury and avoidable' behaviour followed but nothing could take away the win against our fiercest rivals and the image of Tyson with the flag in front of the Derby fans has gone on to feature in many spoof virals made by Forest fans.
2. Forest 3-0 Derby
– It was March 2003 and Forest was making a big push for the Play Offs. We had been playing with tremendous confidence since Darren Huckerby joined on loan the month prior to the game and with David Johnson and Marlon Harewood on fire up front – nothing could stop us. What better time to play a Derby match?
Many of their fans were saying pre-game they'll beat us/mess our season up – the usual hype you tend to get from Derby fans. Forest being Forest, let the football do the talking.
We started brightly from the word go, Huckerby was playing outstanding. Our hard work paid off when Andy Reid swung in a pinpoint cross to Marlon Harewood, who headed the ball past Lee Grant on 13 minutes.
Our run of play continued and 3 minutes later, Huckerby got on the scoresheet, flicking in the rebound after David Johnson's header had initially hit the bar. A penalty from Harewood early on in the second half killed off Derby altogether.
It was a fantastic performance, perhaps the best I have seen us play against Derby. It's a shame the memory banks stop me remembering much else from the game.
1. Lee Camp's Penalty Save at Pride Park
– My favourite Forest-Derby memory isn't even a game we won. It comes from our first Derby game we played upon our return to the Championship, 3 seasons ago.
It need not be said, our start to the 08/09 season was woeful. We had taken only 9 points from 14 games and found ourselves lying in 23rd. But things had started to look promising in the three games prior to the Derby match.
In Mid-October, we made two loan signings that seemed to add improvement to our side. One of them was Carl Fletcher a defensive midfielder from Crystal Palace, the other was a goalkeeper from QPR. He was an ex-Derby man, a Derby fan for that matter, and his name was Lee Camp.
Prior to this game, he was already winning most of our fans over in the games he'd played. Our other goalkeeper, Paul Smith, wasn't the most inspiring. He was a decent shot stopper but he seemed to flap at every cross, had little confidence and never seemed to command his defence at all.
In came Camp, a true leader who reassembled our fledging defence. He inspired the team and our results began to improve significantly.
His fourth game for the club was one he maybe dreamt about. Calderwood gave him a start in the big East Midlands Derby. It's worth noting Derby and their fans don't hold Campy in high regard following comments he and his Dad made about the coaching staff way back in 2005. Now he was a Red and this stirred up the ill feeling towards him even more.
The game was fairly even in the first half, if not uneventful. On a side note, it was also one of Stuart Atwell's more comical refereeing displays.
In the second half, Forest won a corner ten minutes in. McGugan swung it in and the ball was headed back to him on the wing. He crossed it back in toward Chambers who forced a stunning save from Stephen Bywater only for Tito Villa to put the ball into his own goal. Villa did go on to make amends 11 minutes later by scoring the equaliser.
Atwell then sent off McGugan on the 76th minute which was incredibly questionable and we were left to fight out the rest of the game with 10 men.
It seemed we were going to do it until dramatically in the 92nd minute; Atwell pulled back play to give Derby a penalty for a Luke Chambers handball in the box. On loan Arsenal kid, Nacar Barazite, stepped up to take the penalty. He chose to smash the ball towards Camp's bottom right hand corner.
What resulted was total euphoria. Lee Camp guessed correctly and comfortably saved the penalty. Here we have a Derby fan, ridiculed and ousted by the club, playing for their fiercest rivals, saving a penalty in the last minute at Pride Park, right in front of their fans. It was Roy of the Rovers stuff.
The resulting corner was scored by Derby, only for Atwell to make the right decision and disallow it for reasons I don't know or care about.
And that was that, Forest had managed to hold out in a tough encounter at Pride Park and get a vital point. Lee Camp had established himself as a Forest icon for the 00s and many fans were calling for him to be signed up. Thank God we signed him at the end of that season.
And there we have it, my top 3 Forest moments against Derby County. Here's hoping Wednesday night can provide a game that surpasses all of them moments put together. That said, I'd gladly take a scrappy 1-0 win.
Come On You REDS!
What's your favourite Forest vs Derby moments? Discuss them at
http://www.soccer24-7.com/forum/forumdisplay.php?f=80