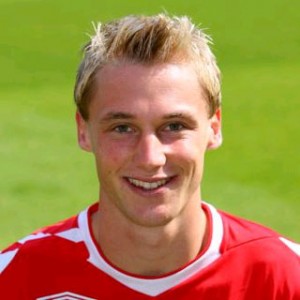 written by IntotheForest
During the very early months of Forest's return to League One, Gary Megson handed a debut to a young German prospect, fresh from the Nottingham Forest Academy via Borussia Dortmund. His name was Felix Bastians and after being handed his debut in a humiliating defeat to Woking FC in the Johnstone's Paint Trophy, it looked as if we had a great talent on our hands.
Often used at Forest as either a Left Midfielder or a holding player, Felix was known for his great pace, strength and ability with both feet and became an excellent impact sub for the likes of Kris Commons and Gary Holt during his very early years at Forest.
At the start of the 2006/07 season, Colin Calderwood had become the new Nottingham Forest manager and was quick to point out how much of an asset Felix was to the club. He was shortly farmed out on loan to Northwich Victoria to get an experience of first team football and push his progression. Sadly, Felix would only wear the garibaldi red of Forest a few more times after this loan.
Towards the end of his career at Forest, Felix ended up being farmed out on loan to a host of non-league and lower league clubs between 2007 and 2008; which saw him turn out for the likes of Halifax Town, Gillingham, Chesterfield, Notts County and finally MK Dons.
As the summer of 2008 drew closer, Felix's contract was almost up and it seemed as if Felix just wasn't living up to his potential or making the progression required. He was promptly released at the end of his contract by Forest.
In hindsight, maybe Felix could have made the grade at Forest. The summer we released him, Kris Commons also left, freeing up an empty Left Midfield spot. Had we given him just one more year to prove himself, maybe he could have finally fulfilled the hype with regular football.
Felix made 18 appearances for Forest, scoring no goals. He was also the third youngest player ever to play for Forest after Craig Westcarr and Gary Mills.
After leaving Forest, Felix went to play for Swiss side Young Boys of Bern after initial interest from the likes of Hereford United, Leeds and German big boys Schalke 04. During his time at Bern, Bastians overall game began to change and develop with him playing some games in their defensive line as a Left Back or Centre Back.
In the summer of 2009, only a year after leaving Forest, Bastians finally made the move back home to Germany where he joined then Bundesliga new boys SC Freiburg. Here he fully transformed into a Centre Back/Left Back and became pivotal to the club due to his versatility and talent. By then end of the 09/10 season, SC Freiburg managed to stay up in the German Bundesliga with Felix drawing a ton of plaudits for his excellent performances.
Now aged 22, Felix continues to progress as a versatile defender for Freiburg and is drawing high attention from other clubs - with rumours that Felix could be making a £2m to either Lazio or West Brom in January. He has also represented Germany at all youth levels; however he is yet to get his first senior cap.
It's always good to see one of our own have succeeded after they have left the City Ground, particularly a young kid who was released by the club. When a teenager is released by a football club, we all know that it is the beginning of the end for most and few manage to bounce back and carve out a reputable career from the sport. For once, it's fantastic to see success and I for one am delighted he has managed to fulfil some of his potential – I believe there is still plenty more left in his tank.
I suppose with Felix, we can look back now and say he is one who got away. How much could we do with a versatile player at the minute that can operate as a Left and Centre back as well as a holding Centre Midfielder or a winger? It certainly covers all the weak points in our team at present. If he continues to progress, I guess we will all have to look out for him in Euro 2012 or World Cup 2014.
Here's to you Felix!