It's always funny your first game. Most fans can remember the result and the team their side played against but because most fans are so young when they get their first taste of live football, very few retain anything else from the day. Oddly enough I always say my first three Forest games, all during the 1998-99 season, each class as a 'first ever' forest game.
My first ever experience of watching Forest was seeing our reserves slip to a 2-0 defeat to Everton on Tuesday 25th August 1998. I recall nothing at all from the game bar Mickael Madar playing up front for Everton - the only reason I remember that is due to me being a 7 year old collecting the Premier League stickers and being highly impressed to see one of the players in my book playing before my very eyes. Looking at the side Everton sent out that night, it wouldn't be the only time that I would see the likes of Paul Gerrard, Don Hutchinson, John Oster and Phil Jevons grace the City Ground turf again. It also wouldn't be the only time I would see Forest lose.
The annoying thing is this experience could have happened months earlier in the March of that year, when I was chosen to be a Forest mascot for my 7th Birthday. At that time I had no interest in football at all and my Mum ended up cancelling it a week before I was scheduled to run out of the tunnel and onto the pitch to avoid embarrassment due to my distinct lack of knowledge of the game. 3 months later, I was football mad when World Cup 98 was on TV. Funny how thing turn out ain't it?
So my second 'first' game was when I finally got to see the first team play in January 1999 when Forest hosted Portsmouth in the FA Cup. That day Forest slipped to a 1-0 home defeat to a Portsmouth side in Division One (now the Championship) with nowadays 'football expert' Steve Claridge scoring the only goal of the game. I once again recall very little from the game bar our fans booing the team off and with me still grasping knowledge of the beautiful game, I joined in thinking that's what fans do at the end of matches. Shortly after that game was drawn to a close, Dave Bassett was handed his P45.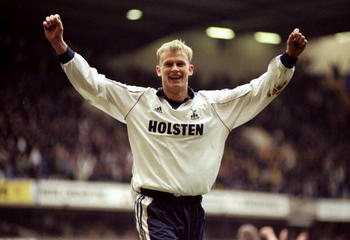 My final 'first' game was on Saturday 17th April 1999, when I saw my first ever Forest league game. This time we played host to Tottenham Hotspurs in a 1-0 defeat that all but confirmed our relegation from the Premiership and back into the old Division One. In this game I can remember the Spurs goal, Steffen Iversen sliding the ball past Dave Beasant right in front of the Bridgford end and Ian Walker taking a goal kick and kicking it right over the main stand into the car park – a feat I have only seen a handful of times 12 years on. It's sad to think this is the one and only time I have seen Forest as a Premiership team.
The funny pattern with these first few games was that not only did Forest lose every single one; they didn't even score a goal. This was a feat that continued for my first 7 games before Alan Rogers finally broke the duck in late 1999, by not only granting me my first Forest goal but also my first ever Forest win. It's a shame I had to feel this pain all over again last season when I started attending away matches. It took 4 games before I saw my first Forest away goal and 9 games before I saw my first away win – it has since became a running joke with friends, family and forum members alike. Safe to say I have always been a Forest jinx.
I also find it ironic to look back on how my first three games gave me an insight into what was to come over the course of the next 12 years of being a Forest supporter. I saw defeats to smaller clubs, players being booed off, one of the managers being sacked and the club all but being resigned to relegation. As with all football fans though, I just keep coming back for more year after year.
Want to tell us about your first game, and see it posted up here? Come and post on the forum if you want to be included
http://www.soccer24-7.com/forum/forumdisplay.php?f=80