Having scanned the dark recesses of my memory I have managed to compile a list of my top 10 favourite players, an easy task you may think, but I had several self imposed criteria to meet before they were allowed in my top 10…firstly I had to have seen them play live for the reds (so that ruled out the European cup winners etc bearing in mind that whilst I am 33 I was too young to remember football at 3 years old), secondly I had to try and recall as much information about them from memory as possible without resorting to the t'interweb for information (so some of the actual facts may be a little incorrect) and thirdly it had to be my opinion and I will try to outline why they are in my top 10, so in ascending order:
10: Pierre Van Hoojidonk
I think he was immense for us in our promotion season, and we picked him up for a bargain at £4.5m from Celtic. He scored goals that not many other players could score, 35 yarders, tap in's, beating defenders, he was a fantastic player. Although it all ended rather sourly when he went on strike because he felt Forest were not good enough to compete in the premier league with the players we had. In the end I think he was proved right when relegation followed, some would perhaps argue that we may have survived if he had played. But the facts remain his record when he played was immense so he scrapes in at 10
9: Colin Cooper
My first season as a season ticket holder came the year after god retired, Frank Clarke had come in and it was the start of a bright new era, some of the old guard had gone, and lots of fresh new faces had come in, including the man who was to be the new vice captain. Coops was a rock for us at the back, I always saw him as being quite short although he was probably 5'11' but he was brilliant in the air and would constantly win headers at both ends of the pitch. I have a really vivid memory of him scoring a header in front of the Trent end (may have been against stoke) had him being laid on the ground looking straight at me (I used to stand at the front ) and I was giving him a kind of 'waaassssup' kind of thing and he did it back.
8: Lars Bohinen
Another one of the fresh faces that came to the city ground during the Clark era I can't remember if he came in the summer or if the season had started, I remember him being a bargain at £450,000 though. He always looked so composed on the ball and could pick out a pass, he also had some great skills, I vividly recall he used to run out to warm up doing tricks. I remember a game during a Christmas period when I was ill at home and couldn't make the game and was laid listening to it on the radio and him scoring direct from a corner, I think it was against Norwich, I also remember him scoring a fantastic goal in the 7-1 rout against Sheffield Wednesday. I think he used to wear number 9 (before squad numbers were used in the football league)
7: Bryan Roy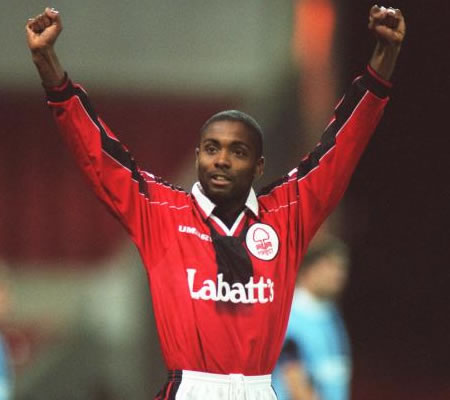 The summer of 94, world cup USA has fantastic memories for me, even though England weren't there it perhaps made it more enjoyable, no disappointment and all that. Anyway, us Forest fans were buoyant about getting back into the premier league at the first attempt after finishing second to Crystal Palace. But never in my wildest dreams would I have thought that I would walk down to the shops and pick up my copy of the evening post to be presented with a picture of a dutch world cup player staring back at me with a forest shirt on. His partnership with Collymore was blistering with the premier league defences not being able to deal with either of them, he was a snip at £2.5m from Foggia I think. He was a player like Henry who was moved in from the wing to playing as a front man who could run at players with great pace and drift past them. If memory serves me he scored well into double figures in that first season (14 springs to mind). He couldn't live up to that first season the following year and faded off, but that first season he was the perfect foil for Stan in a season when we far exceeded expectations and became a bit of a cult figure in my world.
6: Roy Keane
I remember us signing Keane from Cobh Ramblers for a really small amount like £25,000 and thinking ok he could be one for the future. Well that future was a short few weeks later when he made his debut at Anfield of all places bearing in mind Liverpool were the dominant force of English football with the likes of Aldridge, Barnes, Beardsley and co. Cloughie soon took a shine to him and he ended replacing Steve Hodge who I also liked and have a great memory of him being brought down in the 89 league cup final against Luton for the penalty, anyway I digress. There's nothing I could say about Keane's ability that hasn't been said everywhere during his time with Man Utd, but I do remember he got stuck at centre back for a lot of our relegation season under Cloughie which was a shame and I think he broke the British transfer record when we got £3.75m for him when he left.
5: Neil Webb
The one major memory of Neil Webb is him scoring the goal against Luton in the 89 league cup final and him jumping the advertising hoardings and coming near to where I was stood at Wembley, yes stood. That Christmas I got the Wembley, Wembley video and the commentary sticks with me today from that goal "and Webb's further forward than any of them, it's Neil Webb". I also went to see England v's Turkey at Wembley which saw him score his first goal for his country in an 8-0 win. Webb seemed to have such a good range of passing and good vision, I was gutted when he left to go to Manchester, and even more gutted when he picked up that horrific injury early on in his United career. I think Webb was a wonderful midfielder who also scored plenty of goals.
4: Nigel Clough
When I was young and first started really getting into my football I thought it was quite normal for a managers son to play for his club, as all the kids teams I played for had a manager/son combo, anyway, I remember Cloughie jnr scoring about 20 a season for us every season, he was the number 1 frontman and ended up with many different partners who he provided goals for too. A wonderful eye for a pass and an accomplished free kick taker. Again a piece of commentary that comes to mind was against West Ham "is it going to be Clough or Pearce…..it's in there, a superb free kick from Nigel Clough". As Brian referred to him 'our number 9' Nigel was there through all of my formative forest years which saw us with Wembley as our second ground, and when he went to Liverpool at the end of 'that' season I wished him luck as his position was untenable after what went on the year before.
3: Des Walker
"You'll never beat Des Walker" was the song that used to reverberate around the City Ground, Des was a rock for both Forest and England, I am no defensive aficionado but I used to love it when he got turned around by a long ball or a through ball and he would outpace the striker to get there first. I went his testimonial years later and remember reading that Ian Wright used to get driven mad by that chant because it was so often true. Des' dark day came when he headed into his own goal in the cup final. Again I remember being gutted when he left to go to Sampdoria where Sven basically ruined his career by playing him out of position. When he came back years later he was an excellent influence on an upcoming Michael Dawson. Again he blotted his amazing copy book with an own goal in the play offs against Sheffield United, but no one should hold these against him as he is a true reds legend.
2: Stanley Victor Collymore
I loved Stan, and when I say loved I mean loved in a man love kind of way. When he first came to us I wasn't overly excited as I hadn't really heard of him but boy it didn't take him long to make an impact. The goals flooded in and at the time he did the 2 guns celebration to the crowd. I have vivid memories of the goal against Wimbledon at home when (now sat in the lower bridgford during the building of the trent end) me and my mate stood up with excitement when he picked the ball up on the half way line as it seemed almost inevitable that something exciting was going to happen and boom he scored. I got a forest shirt with his name on the back for Christmas. He was a player that would have got many more England caps if a: he had stayed at Forest and b: there hadn't been so many good English strikers around at that time (Shearer, Sheringham, Cole, Wright, Ferdinand etc). If Collymore was around playing today he would be first choice with Rooney. I couldn't help but feel let down by Stan though when he touted for a move to a big club when almost daily it seemed he was quoted as saying in the paper "ooh I'd love to play for United" or "yeah I've always dreamed of playing for Arsenal". To be honest at the time I started getting sick of hearing it almost as much as Billy moaning about getting new players. Then he left, I was in mourning, we had finished 3rd and was about to take on Europe with Jason Lee up front, I wanted us to build not dismantle. But over time I have come to appreciate what he did for us and how good he was. Last week in fact I got the Collymore years on dvd, 50 goals in 78 games….and a £6m profit. I love you again now Stan..thanks for the memories ya big dogging, woman beating, big club touting, brummie swine.
1: Stuart 'Psycho' Pearce
Pearce leading out the reds to the chants of 'psycho, psycho, psycho' with the finger pointing emanating from the Trent end and him running over and putting both hands in the air with the words 'f**king come on' coming out of his mouth. He was our leader, he left everything on the pitch, he smashed wingers all over the place. I loved seeing a Pearce tackle that saw his opponent writhing in agony on the floor and Psycho just jogging calmly away. I loved seeing him lifting all of those trophies (including the mercantile credit trophy….try looking that up) When I was 17 I had a fake ID and me and 10 mates who used to go down (about 95) used to all chuck a quid in and have a bet on him to be first goalscorer at 14-1, we never won, in fact we got so sick of losing we decided to go for Collymore one week and guess what, Pearce penalty..swine. I was devastated when he missed his penalty in the WC semi final but he just came back stronger scoring something like 15 goals the following season, not a bad return for a full back. I was proud that England were led by a forest player, but he will also be remembered for the pass back against San Marino, but he came back stronger, particularly at Old Trafford when he hit a blunder buster 35 yard free kick after the mancs (I say mancs, I mean folk from Surrey, Kent and Cornwall) had given him some stick over San Marino. I remember him almost joining Kobe in Japan which was a really random time, and I'm not sure how close he was to doing that, but what a waste that would have been. I also remember there being uproar when he signed a new contract on £6k a week, that seems a joke now looking at what the top players earn, and Psycho was a top player, Fergie tried to get him, Kenny Doglead tried to get him, teams from abroad came sniffing. Psycho was and is a legend loved by every forest fan. He is my number 1 because his commitment was never in question, he scored great goals, and he led us to numerous cup finals.
Other notable mentions of random players who I remember and loved for really strange reasons:
Paul McGregor
Stephen Howe
Gary Bull
Toddy Orlygsson
Tommy Gaynor
Garry Parker
Franz Carr
And Jason Lee